About Us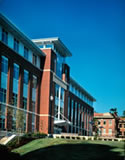 The well-know fable of The Three Little Pigs promotes the image that brick houses do not blow over. The longevity and sturdiness of brick serves as a symbol for Davidson's Masonry, a company in Salem, Oregon that fosters a family business atmosphere while adapting to modern-market demands. It is a contemporary commercial and industrial brick, block, and masonry contractor, with a heart forged by family values and old fashion virtues.
Brothers Jim and Gordon Davidson officially started the company in 1955. The brothers steadily built a reputation in the growing Salem area for quality brick and block work, expanding from residential and light commercial to the large commercial projects that have become the bulk of their business.
In 1962, a young hod carrier accepted an opening in the company's bricklayers' apprenticeship program. Darrell Evenson, that 18-year-old apprentice, ran the company until 2007. Darrell worked his way through every level of the company, and by 1994 he was in a position to buy the business from Jim and Gordon. By that time, the firm was well established as a top-notch commercial brick, block and masonry contractor in the greater Salem area. Since Darrell had taken over the leadership of the company, market opportunities and an overall boom in the state's construction industry – especially throughout the 1990's – had allowed the firm to expand.